Memory Care at Sunrise: Enjoy a Vibrant Life
Your loved one living with Alzheimer's, dementia, or another form of memory loss can find good friends and a uniquely warm and engaging home in a Sunrise memory care community.
Compassionate Alzheimer's and Dementia Care
From the moment you walk into our memory care neighborhoods, you know that you've arrived somewhere special—a place where caregivers are more like family. Our Reminiscence neighborhoods are tailored to those living with more advanced Alzheimer's and dementia and provide a compassionate and supportive environment.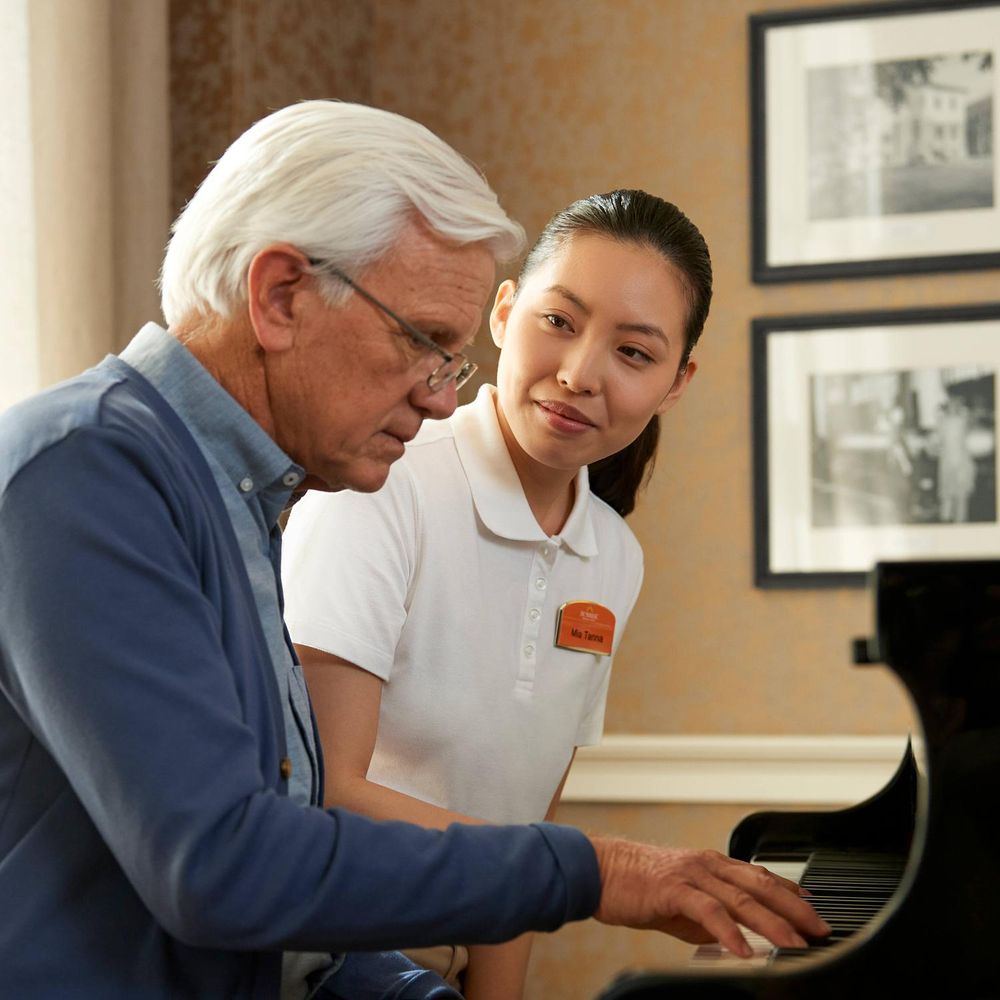 Expertise You Can Count On
Rooted in the latest research, our personalized memory care services leverage proven techniques to help keep residents engaged and happy. As an Authorized Validation Organization, we practice the Validation method, which uses empathy and communication to help reduce stress and increase happiness. Our Orientation Training is recognized by the Alzheimer's Association* for incorporating evidence-based Dementia Care Practice Recommendations.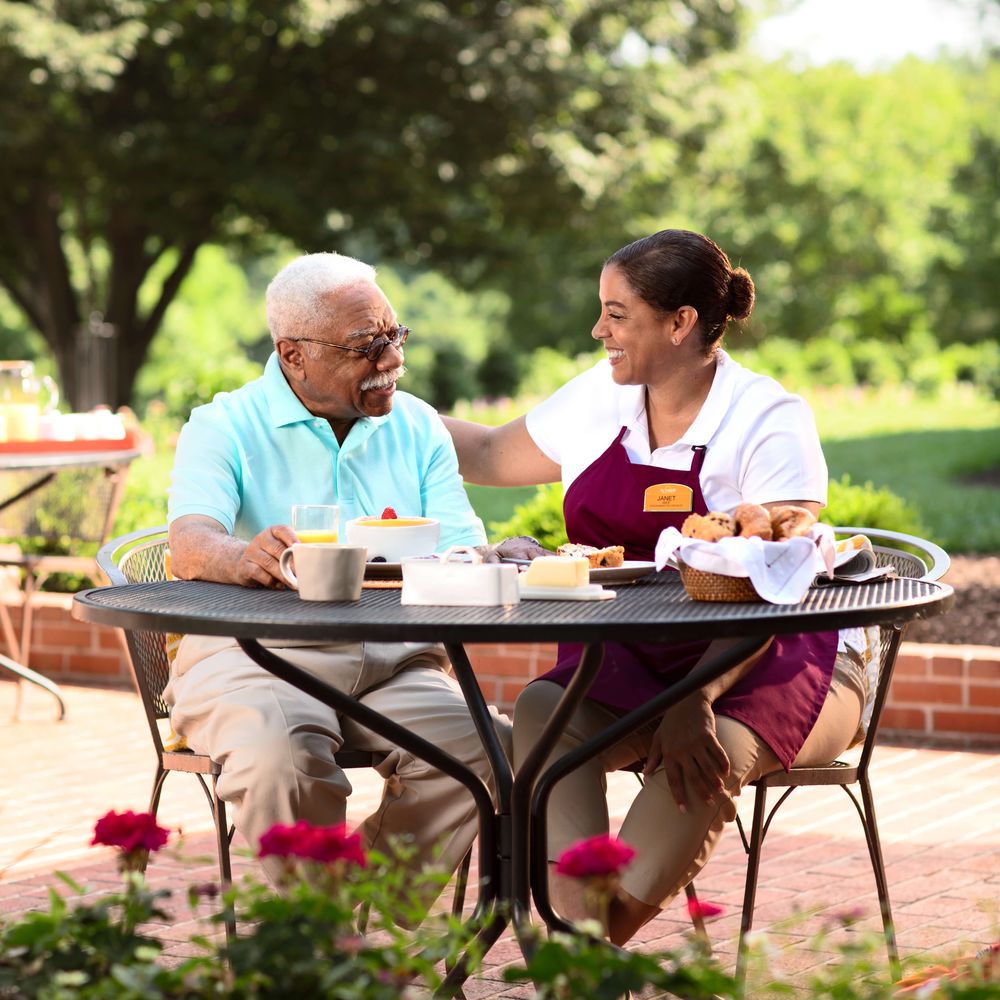 Helping Residents Live With Purpose
Thoughtful programming

Through our Sunrise Live With Purpose™ programming, residents engage in activities that bring them purpose and joy. From music to gardening to art, our signature programs encourage residents to find meaning in each day.

Intimate settings

Memory care residents benefit from 1:1 and small-group programming that speaks to their unique interests and passions. They especially enjoy connecting with each other in a close-knit environment.

Dedicated team members

Using their deep knowledge of each resident, our life enrichment managers make sure each resident engages with activities that speak to their past experiences, who they are today, and what makes them special.
Find a Memory Care Community Near You
An Empowering Dining Experience
Your loved one will enjoy familiar, pleasant, and dignified meals. Our dining rooms are warm and inviting with fresh flowers, linens, and soft music. By using yellow Fiestaware china and contrasting table linens, we help residents eat more independently. Residents are presented menu choices visually, allowed time to make their selection, and given their chosen items quickly. For those on a texture-modified diet, our in-house chefs craft appealing, flavorful purees shaped to look like the real thing to help improve intake.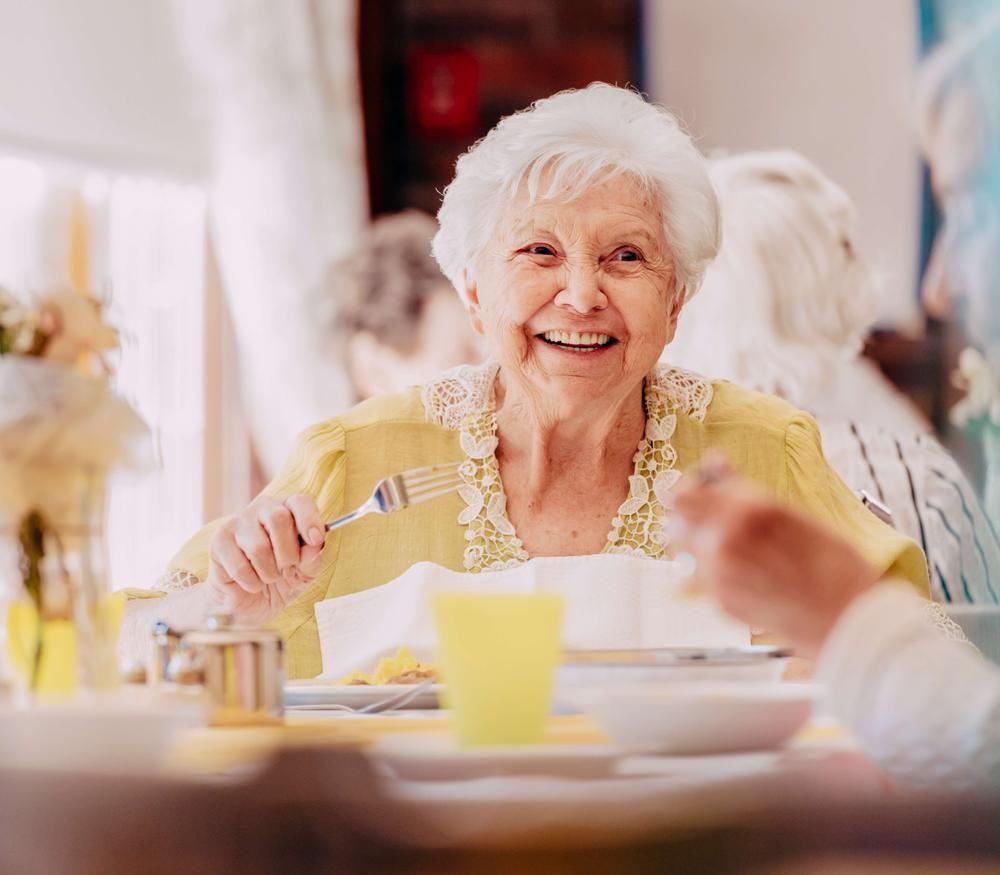 Specialized design

With centralized layouts, motion sensors, and contrasting color schemes, our memory care neighborhoods are purpose-built to encourage social engagement and friendships, promote independence, and improve wayfinding.

Coordinated care

In our sophisticated electronic health record system, Sunrise CareConnect, we document nearly every facet of residents' care and health—allowing us to adjust care plans and better meet residents' needs.

Family communication

With our innovative family engagement app, we help residents stay connected to their loved ones by exchanging pictures, videos, messages, and more between our activities coordinator and family members.
*The Alzheimer's Association statement of recognition is not an endorsement of the professional training or evaluation of the care provided by the facility.
Find a Memory Care Community Near You
If you'd like to learn more about our memory care services at a Sunrise community near you, just fill out the form and one of our senior living experts will be in touch as soon as possible.