Live Life to the Fullest
This is your time to do more of what you love alongside good friends.
Seize the Day
What gets you out of bed in the morning? The chance to listen to your favourite hits and sing along? Maybe defending your title of trivia master? Or perhaps perfecting your yoga poses? Whatever it is, you can connect with your passions with our Sunrise Live With Purpose™ programming. Every day, our senior centre's calendar is full of ways to engage, connect, and have fun alongside your friends. And if we don't already offer your favourite pastime, we'd be happy to add it. Activities That Help You Live Fully
Engage in an old hobby, try something new with friends and neighbours, or introduce a personal favourite into our senior housing community—the choice is yours.

You can choose from a long list of activities throughout our communities:
Fitness classes such as yoga, chair exercises, and Tai Chi
Painting and art
SingFit, an active, full-body singing experience
Brain teasers like crossword puzzles, trivia, and word searches
Flower arranging
Outings to local attractions
Reflection and meditation
Gardening
Games such as mahjong, canasta, cribbage, and bridge
In addition, we offer several religious and spiritual events, such as church services, Shabbat candle lighting, and Bible study.

If there's something you'd love to do that we don't already offer, just let us know! We want to make sure everyone has the chance to engage with their unique interests.

Find your local community and join us for an activity.
Discover Sunrise Live With Purpose™
Our programming takes a holistic approach to wellness and engagement, offering a variety of fun and enriching activities based on your interests and passions.
Live With Artistry

Express creativity through visual and fine arts, poetry, dance, and more.

Live With Action

Get moving with and enjoy the benefits of exercise for both your body and mind.

Live With Learning

Help keep your brain sharp while you connect with your strengths and interests
The Joy of Music in Memory Care
Because there's such a strong connection between music and memory, we often incorporate music into our programming for residents living with Alzheimer's and other forms of dementia. Music therapy has been shown to help access long-term memories, ease symptoms of depression, and even reduce pain.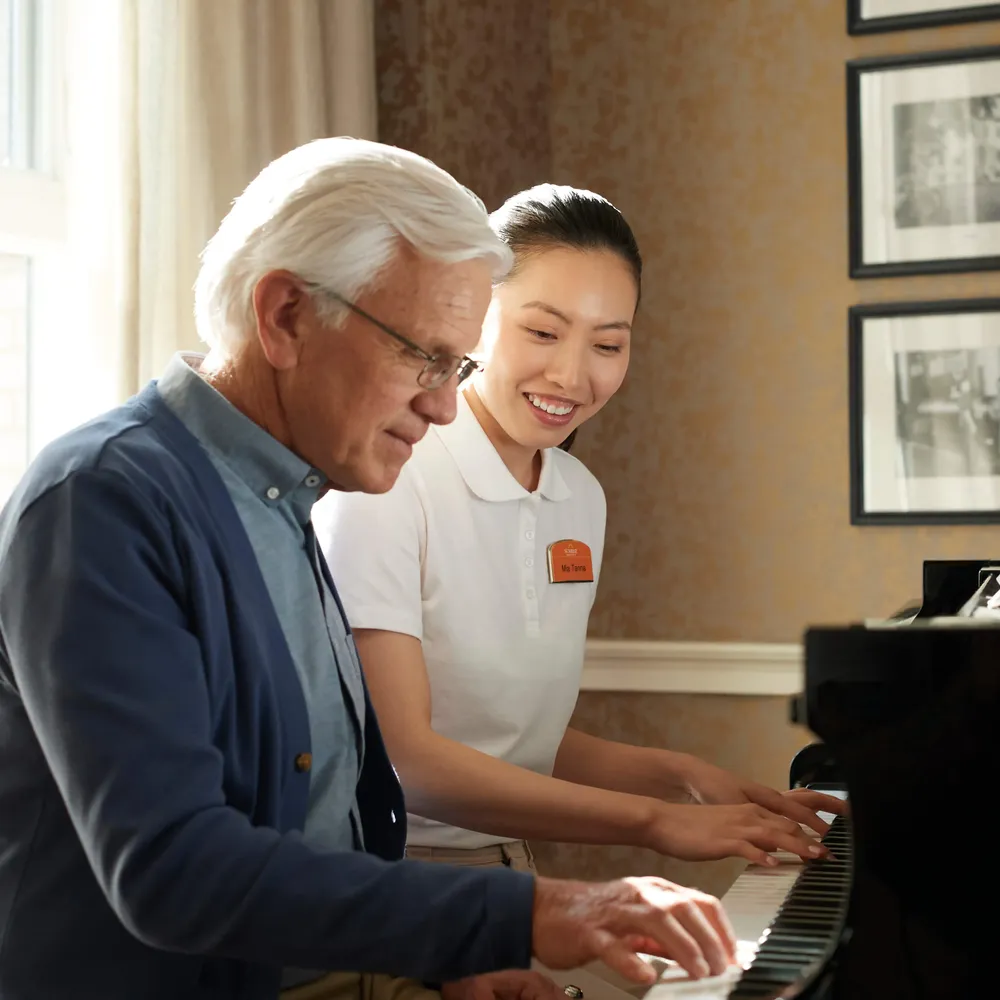 Ready to learn more about our programs and activities?
If you'd like to discover more about our engaging programming and activities, fill out the form and one of our senior living experts will reach out as soon as possible. Make sure to ask about joining us for a meal or activity!